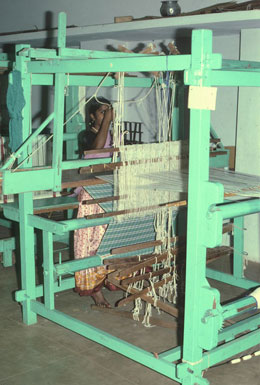 The loom then already gave an archaic impression and is now at Seva Sangam also history.

In 1948, shortly after the death of Mahatma Gandhi, a group of women from Tiruchirappalli wants to continue his ideals. They establish the society Seva Sangam (sharing), with the aim to care for the abandoned women, orphans and poor children. Seva Sangam gives education and help them to lead a meaningful life.
The organisation develops into a large institute through the effort of these women, who as volunteers control this and raise funds in the population of their city. A small part of the cost of education is payed by the State, the major part by charity.
Nursery schools, primary and secondary schools are built as well as dormitories for internal students and housing for single working mothers. Apart from general education there is also professional education such as weaving on hand looms and printing on a print press, which also generates income for the institute. Younger pupils help to make sandal wood garlands, which are use to worship Gods, but also to offer them as a welcome to visitors.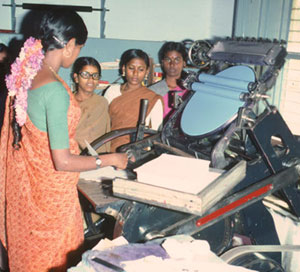 Also the print press has been replaced, where the girls learn a profession it also generates a small income for the institute.



In December 1979 the Barelds family visits the institute. Nelly Barelds works as a volunteer for the adoption organisation BANND, as a coordinator for India and therefore they visit, during their trip through South India, various children's homes. At Seva Sangam there are no babies and toddlers orphans but, very inventive, immediately a 10 year old girl is introduced with the question to sponsor her. This is how Shanthi becomes the first sponsor child of "Seva Sangam the Netherlands", which, after returning home, arises spontaneously because relatives and friends also begin to support children. Right from the beginning Mieke Aussems, Nelly's sister, is the best promoter and through her actions even a whole school, the Maartenscollege in Maastricht, gets involved.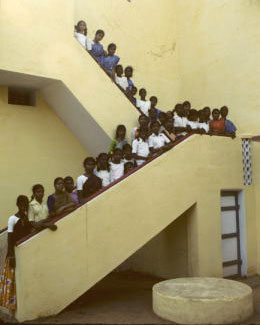 The girls who were sponsored around 1984 and long ago succeeded by others.

The handwoven sheets and the sandalwood garlands sell well in the Netherlands. The only disappointment is that sending letters, products and money is a very laborious matter. In January 1981 the Barelds family is in India again and the ties are strengthened and problems discussed.
1984 they leave for Portugal, since then, Seva Sangam Netherlands is very inspiringly managed by Mieke Aussems. Sponsors and friends, who go to India, visit the home and come back with enthusiastic storeys. The board in India consists of elderly women, who despite their advanced age are often very active. Partly because of this there is very often a different secretary , but despite this, the contacts run increasingly better. Also India does not lag behind the time and the developments in the field of IT do not go beyond them, so that now, correspondence is done by e-mail and telephone calls are payable. The hand weaving had to be stopped, there is no longer a market for hand woven sheets. A Belgium benefactor has provided a modern print press, which is still in use.
There are also computers which, on a small scale, are used for lessons. Some are donated by the Maartenscollege.
By some large scale fund raising projects, among others by "De Wilde Ganzen" (Wild Geese) the highly necessary renovations are realised. In 1989, 1993, 1997, 2002, 2004, 2007, 2008, 2009 and the last time in January 2012, board members have visited Seva Sangam in Tiruchirappalli, for meetings, control and to have a look at everything.
In the past 30 years the number of sponsored girls has been several hundreds in total. At the moment, 2013, there are 110 of them. Also there are many general sponsors.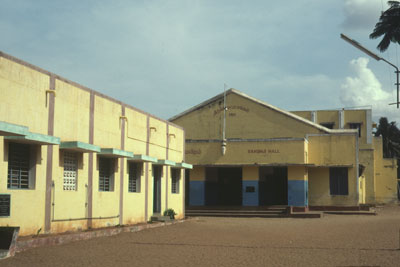 School buildings in the seventies, still plenty of space on the terrain.
Here also space in abundance, on later pictures you can see that it has already pretty much been built up.